Our Company
Our Job Opportunities
Our Awards
Our Locations
Our Benefits
FAQs
A BETTER WAY TO CARE
Encompass Home Health and Hospice is one of the largest Medicare certified Home Health and evidence-based practice providers in the nation. Acquired by HealthSouth Corporation in 2014, and with over 230 branches in 24 states providing services to over 65,000 patients annually, Encompass is an industry leader in patient satisfaction and clinical outcomes.
As we continue to grow and expand, there is no better time to join the Encompass family!
Our "A Better Way to Care" philosophy exemplifies our commitment to compassionate care for our patients, our unique culture, and our employees' mission to serve our communities.

Learn About What Makes Encompass So Great
View our Encompass Culture book >
We Are a Best-in-class, Nationally Recognized Company
States Where We Operate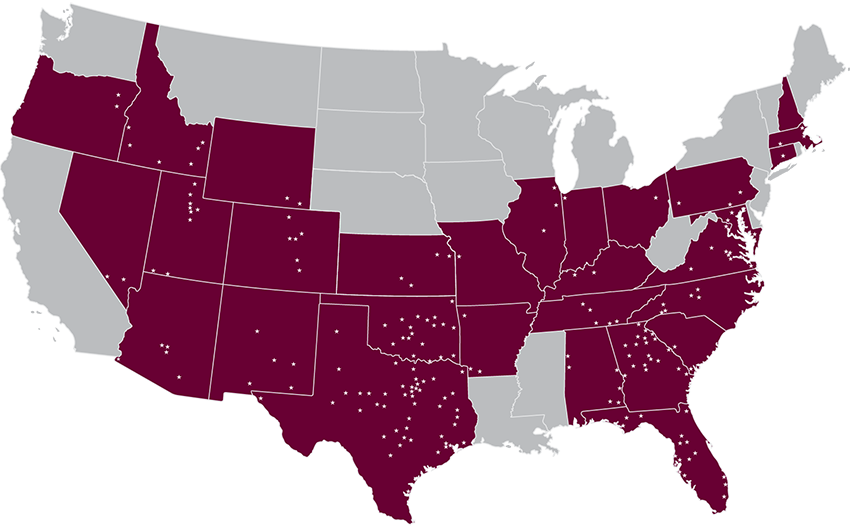 Search For An Encompass Location
View A List Of All Encompass Locations
FAQs
What makes Encompass Home Health & Hospice a great place to work?
At Encompass, we believe a great place to work starts with great employees that are committed to a great mission – A Better Way to Care. We continually invest in our team of clinicians and employees so they can achieve personal goals and make meaningful, measurable differences in the lives of their patients.
Year after year, Encompass Home Health & Hospice is ranked among the best places to work in our markets. We've been recognized as a top company in our industry, reflecting our leadership and the talent throughout our organization. Check us out on Great Rated!
What should I expect if I wish to complete an application?
Our online application process can take 20-30 minutes to complete. We highly recommend that you complete the application using a laptop or desktop computer. Using a mobile device is not recommended as you may experience difficulties or error messages.
I don't have time to complete an application; can I just send you my resume?
You can always send us your resume but to move forward in our pre-employment selection process, you will need to complete an online employment application.
However, you can join the Encompass Home Health Talent Network. By joining you will stay informed about newly opened positions that fit your skills and experience. Joining our Talent Network also means that our recruiting team may contact you directly when we think you may be a fit for an open role.
Can I attach my resume to my application?
Yes, if you have a resume, we recommend uploading it to your profile while you are completing your employment application. Preferred file formats: PDF, DOC, DOCX, RTF.
I submitted my application, now what?
You will receive an email confirming that we have received your completed application. Our Recruiting Team will review your qualifications and experience to determine if a match exists with the position you applied for. We facilitate an efficient and timely recruitment and hiring process; however, we do not follow a specific timeline. We work diligently to reply to every applicant in a timely manner.
When will I be contacted for an interview? What is the interview process like?
There is no set timeline for setting up interviews. If you are a strong candidate for the position, we will contact you about next steps. The interview process will vary depending on the hiring manager and department.
Can I apply for a position that I saw on the internet but that is no longer listed on your website?
If you do not see the position listed on our website, we have either filled the position or have stopped accepting applications for that particular opening. We encourage you to join our Talent Network to receive notifications about similar opportunities in the future.
I was not selected for the position that I applied for. What should I do now?
There are many possible reasons why you may not have been the right fit for a specific position, but do not let that deter you. We are recognized as a great company to work for and we have many qualified individuals applying daily. If you weren't selected for this particular position, we encourage you to search for and apply for other opportunities that are a great fit with your talents.
How do I stay connected with Encompass Home Health & Hospice?
A great way to stay informed is to join our Talent Network or to follow us on Facebook and LinkedIn.
Check out some of our great Benefits
Comprehensive medical, dental, and vision insurance plans
Flexible Spending Account (FSA) for out-of-pocket medical, dental, vision, as well as child/adult day care
Thirty (30) paid-days-off per year for all full time employees
Company Car Fleet program
Continuing education opportunities - CEUs, Conferences, Career Development
Scholarship program for employees and their children
Matching 401(k) plan
Continued Learning, Enrichment and Growth
See our opportunities for employee development >